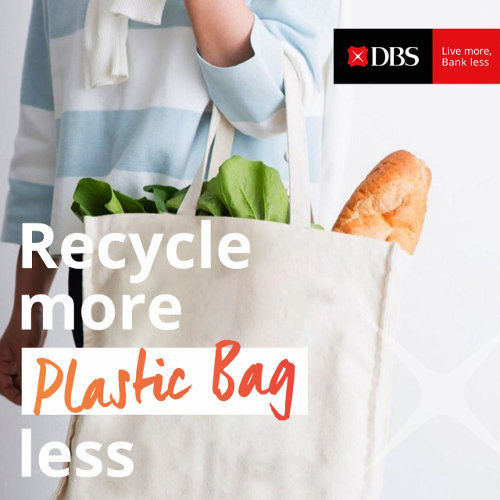 Pemerintah Indonesia melalui Kementerian Lingkungan Hidup dan Kehutanan (KLHK) menargetkan pengurangan sampah Indonesia sebesar 30% pada tahun 2025 mendatang. Demi mendukung pemerintah dalam mengurangi sampah, Bank DBS Indonesia menggelar gerakan peduli lingkungan bertajuk "Recycle More, Waste Less".
Objektif dari program "Recycle More, Waste Less" adalah untuk memberikan kesadaran peduli lingkungan kepada segmen millennials Indonesia untuk membawa perubahan dengan dimulai dari kebiasan sehari-hari. Di program ini, Bank DBS bekerja sama dengan wirausaha sosial dan komunitas yang bergerak di bidang lingkungan, antara lain WWF Indonesia, Waste4Change, Cleanomic, Zero Waste Indonesia, Evoware, dan Weekend Workshop.
Dijelaskan Mona Monika, Executive Director, Head of Group Strategic and Marketing Communications PT Bank DBS Indonesia, "Gerakan Recycle more, Waste less melibatkan seluruh generasi di Indonesia terutama millennial untuk lebih kritis terhadap lingkungan sekitar seperti melaporkan penumpukan sampah yang ilegal."
Ia mencontohkan, mereka (millennials--red) dapat mengambil foto, posting di media sosial mereka lalu tag location dan tag rekan wirausaha sosial yang ditunjuk Bank DBS, seperti Waste4Change, yang juga bekerja sama dengan pemerintah daerah untuk ditindak lanjuti.
"Melalui gerakan ini, kami sebagai institusi perbankan ingin mendukung program pemerintah, yaitu Indonesia Bersih Sampah 2025 dengan mengajak masyarakat Indonesia khususnya generasi millennial untuk lebih memaknai hidup dengan cara peduli pada lingkungan," ucapnya.
Ada tiga cara yang ditawarkan Bank DBS agar millennials dapat berpartisipasi di program tersebut. Pertama adalah dengan menekan pilihan 'Dukung Sekarang' yang juga akan terhubung langsung dengan media sosial pendukung dalam bentuk pledging. Kedua, masyarakat dapat memilih dan men-download template pledging yang ingin mereka pilih pada website, meng-upload template ke media sosial yang dimiliki beserta pesan kebaikan yang tertera pada website dengan tagar #RecyclemoreWasteless #IndonesiaBersihSampah2025, dan membagikannya kepada tiga teman. Ketiga, masyarakat juga dapat mendukung gerakan ini dengan mengunggah foto kreasi masing-masing dengan ketentuan yang sama dengan cara kedua.
Lebih lanjut Mona menerangkan, masyarakat yang berkomitmen dalam mendukung gerakan "Recycle More, Waste Less" dengan postingan terbaik berkesempatan untuk memenangkan paket #TravelForGood, sebuah pengalaman travelling sambil volunteering ke destinasi wisata di Indonesia untuk tiga orang pemenang.