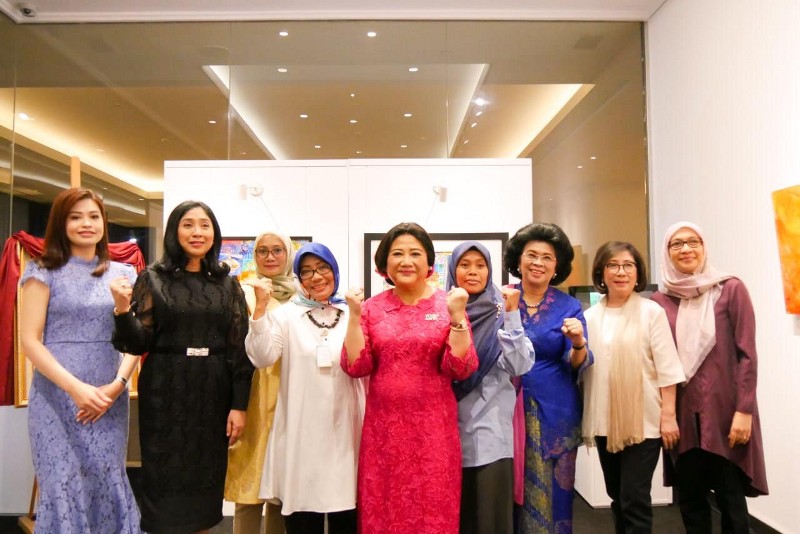 The London School of Public Relations (LSPR) melalui London School Centre for Autism Awareness (LSCAA) dan Sunrise Art Gallery kembali menggelar kegiatan amal bertajuk "Heart for Autism" selama hampir sebulan penuh,  1 – 28 Agustus 2019, di Sunrise Art Gallery, Fairmont, Jakarta.  Sebelumnya, acara serupa telah digelar pada Maret lalu. 
Pada perhelatan kali ini, LSCAA juga brrkolaborasi dengan Daya Pelita Kasih Foundation untuk memamerkan karya lukis bernilai seni. Hasil penjualan lukisan dalam kegiatan tersebut nantinya akan diberikan kepada pelukis dan didonasikan kepada Rumah Autis yang menangani anak-anak autis dan anak berkebutuhan khusus dari keluarga prasejahtera.
Diterangkan Prita Kemal Gani, Founder & Director of LSPR sekaligus Inisiator LSCAA,  penggalangan dana  melalui kegiatan A Group Charity Art Exhibition "Heart for Autism" ini digelar secara berkelanjutan.  "Mendidik, merawat, dan memiliki anak berkebutuhan khusus tidaklah mudah. Anak berkebutuhan khusus membutuhkan edukasi dan perhatian khusus dari orang tua, orang-orang sekitar, masyarakat, dan juga Pemerintah. Banyak anak penyandang Autism Spectrum Disorder (ASD) di Indonesia yang tidak mendapatkan terapi yang dibutuhkan, karena mahalnya proses terapi dan fasilitas yang kurang memadai, " ucapnya.
Oleh karena itu, LSCAA  meyakini bahwa kegiatan amal seperti  "Heart for Autism" akan memberikan kontribusi positif menjawab kebutuhan penyandang autis yang datang dari keluarga tak mampu. "LSCAA merupakan bentuk kepedulian LSPR dalam menyuarakan keberadaan individu autistik di Indonesia dengan beragam kegiatan selama 11 tahun secara kontinyu. LSCAA memiliki berbagai program pelatihan, seminar, ajang kesenian, penelitian, dan beragam kerja sama, seperti kolaborasi yang dilakukannya bersama Daya Pelita Kasih Foundation," paparnya.
A Group Charity Art Exhibition "Heart for Autism" dikemas sebagai ajang pameran 33 lukisan hasil goresan tangan anak berkebutuhan khusus dari Daya Pelita Kasih Foundation. Karya seni yang terlukis di atas kanvas memiliki nilai artistik bentuk ekspresi isi hati, sebagai cara mereka berkomunikasi. Pameran hasil karya 33 pelukis berbakat asuhan Daya Pelita Kasih Foundation, dijual dengan kisaran harga mulai Rp 6 juta hingga Rp 18 juta. 
Gelaran kegiatan ini adalah rangkaian aktualisasi dari Kick Off Project on Autism Awareness yang diprakarsai oleh LSPR, Rumah Sakit Pusat Otak Nasional (RS PON), dan CT Arsa Foundation, untuk mengembangkan bakat anak-anak penyandang autisme.