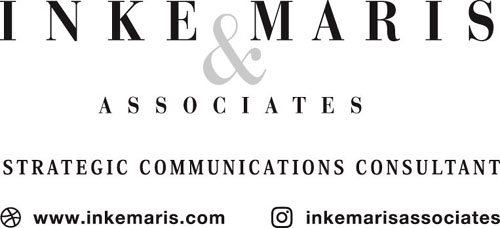 Hadir sejak 1986, Inke Maris & Associates (IMA) mampu eksis sebagai salah satu konsultan Public Relations independen terkemuka di Indonesia. Jam terbang IMA selama lebih dari tiga dekade juga dipenuhi oleh deretan perusahaan ternama, yang pernah menjadi kliennya. Mulai dari perusahaan multinasional blue-chip, perusahaan nasional, hingga lembaga publik di Indonesia.
"Kekuatan IMA ada pada kemampuan memberikan konsultasi strategis kepada klien. Para konsultan kami memiliki wawasan dan pengetahuan luas dari berbagai industri dan memiliki jaringan luas di sektor publik dan swasta di seluruh Indonesia. Kami juga sangat kuat dalam menjalin hubungan baik dengan pemangku kepentingan utama kami yaitu rekan-rekan media sehingga memilih IMA sebagai "PR Agency of The Year 2016" dari Majalah MIX. ," ungkap Lawrence Tjandra, selalu Direktur Inke Maris & Associates.
Tim Inke Maris & Associates
Lebih jauh ia menjelaskan, saat ini, Inke Maris memiliki layanan konsultasi yang meliputi Public Affairs, Corporate Communications, Financial Communications, Marketing Communications, Crisis & Issues Management, Community & Stakeholder Engagement, Digital PR, dan Event Management.
"Dalam bidang marketing communications, kami telah memberikan strategi dan program yang membantu perusahaan atau brand menciptakan legacy yang melekat erat di benak target market. Contohnya, Program 10.000 Langkah dari Anlene, program Deteksi Dini di Rumah Sakit dari Neurobion, dan program Sentuhan Ibu dari Nivea," ucapnya.
Di era disrupsi dan pandemi Covid-19, IMA juga terus mendukung kebutuhan klien dengan berinovasi ke plartform digital. Misalnya, menggelar webinar Betadine dengan peserta Dinas Kesehatan di seluruh Indonesia, peluncuran virtual koleksi premium OPPO Find X2, dan peluncuran serum mata BSkin.