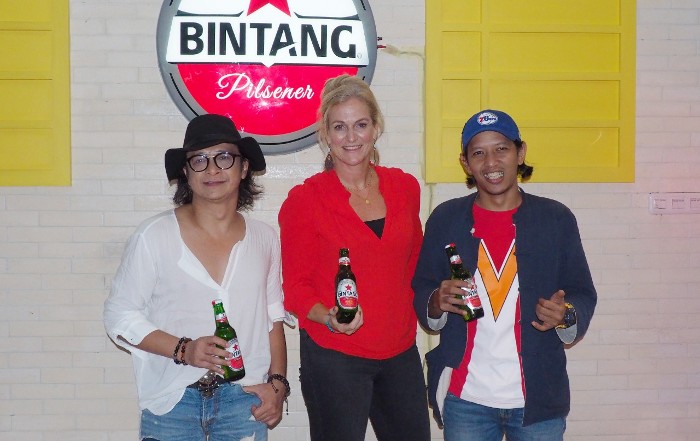 Aktivasi merek masih menjadi pilihan bagi pemilik brand (brand owner) sebagai strategi marketing untuk meningkatkan awareness dan membangun hubungan dengan customer.
Hal inilah yang dilakukan Bir Bintang, merek bir ikonik Indonesia, dengan menggelar event Sound of Bintang: Karaoke Battle yang merupakan ajang kompetisi open mic karaoke.
"Bir Bintang dengan bangga menyatukan semua pecinta musik melalui Sound of Bintang: Karaoke Battle," kata Mariska van Drooge, Marketing Director PT Multi Bintang Indonesia Niaga, kepada media di Livespace SCBD, Jakarta, pekan lalu (07/12).
Event Sound of Bintang: Karaoke Battle menghadirkan serangkaian bintang tamu kejutan di sepuluh outlet yang berpartisipasi di Jakarta dan Bandung. Para peserta juga akan mendapatkan kesempatan untuk bernyanyi bersama dengan artis Indonesia favorit mereka.
Ke-10 outlet tersebut antara lain The Moon Hotel Monopoli, Halfway Gandaria, Ruci's Joint Senopati, Halfway Puri, Gen's Bar & Resto, Oeang M Bloc Space, Camden Cikini, Lucy in the Sky, Kiri Social Bar, and Tambuhak Food & Beverage Garden.
Karaoke telah hadir di Indonesia sejak beberapa dekade yang lalu dan berevolusi dari satu generasi ke generasi lainnya. "Bir Bintang memberikan panggung bagi orang-orang untuk mengekspresikan dirinya melalui musik dari berbagai generasi dan genre, yang akhirnya membawa penonton untuk bernyanyi bersama," kata OomLeo Berkaraoke.
Pemenang Sound of Bintang: Karaoke Battle akan mendapatkan hadiah utama ke Fuji Rock Festival di Jepang tahun depan.
"Bir Bintang dan saya berbagi visi yang sama dalam membawa kegembiraan dan kebersamaan kepada orang-orang," ujar Andy/rif, legenda rock Indonesia.()