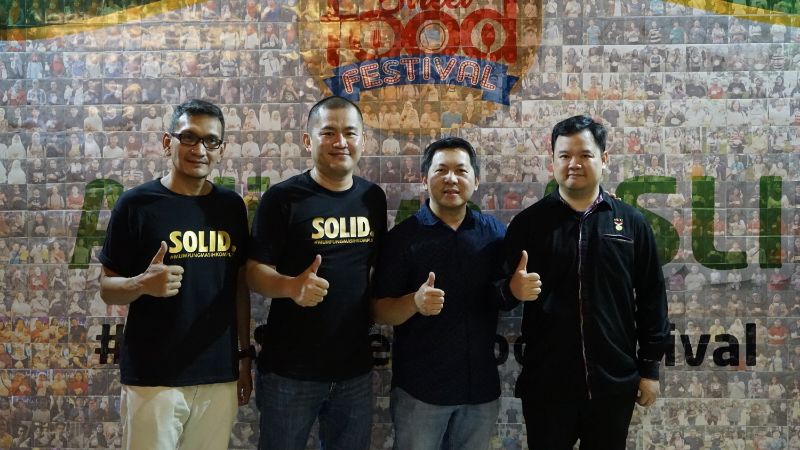 Menggandeng MNC Channels, pada ramadan ini, PT Sasa Inti--leading food company dari Indonesia--menggelar program "Sasa Street Food Festival". Digelar selama dua hari, 18-19 Mei 2019, di Central Park-Jakarta Barat, "Sasa Street Food Festival" menyajikan 40 tenant kuliner dengan beragam makanan khasnya. Antara lain, Empal Gentong Cirebon, Gultik Bi Sondah, Kopi Tuku, Nasi Goreng Kebuli Apjay, King of Kebab, Banagirl, Nasi Bekti, Dendeng Minang Pride, Lontong Medan Kak Putri, hingga Pingkan Menado.
Diungkapkan Albert Dinata, Marketing Manager PT Sasa Inti, "Kali ini, kami mengusung tema Kuliner Asli Nusantara.  Salah satu alasan kami memilih kuliner Nusantara sebagai tema umum acara ini adalah karena masakan Indonesia menggunakan santan sebagai salah satu bahan penunjang masakan. Di acara ini, Sasa menghadirkan produk Sasa Santan, dengan tagline 'Aslinya Santan' yang sangat identik dengan kuliner Nusantara."
Pada kesempatan itu, Sasa Santan juga berhasil memecahkan Rekor MURI (Museum Rekor-Dunia Indonesia) dengan "Memasak 1440 Mangkuk Soto Betawi Secara Estafet" yang dibagikan kepada seluruh pengunjung acara Sasa Street Food Festival. "Soto Betawi dipilih, karena merupakan salah satu masakan asli khas Indonesia dengan kuah yang gurih dan menggunakan santan sebagai salah satu bahan dasarnya," terang Albert.
Lebih lanjut ia menerangkan bahwa Sasa Street Food Festival menyajikan aneka kegiatan seperti Cooking Demo bersama in house Chef Sasa, Chef Rendy Kong. Tentu saja, para pengunjung dapat mengikuti kegiatan tersebut. Dengan demikian, pengunjung juga dapat merasakan pengalaman memasak bersama in house Chef Sasa.
Ada juga Cooking Battle yang terbuka untuk umum serta Meet and Greet bersama Kiko, pemeran film "Koki Cilik 2". Selanjutnya, untuk mengisi waktu pengunjung menjelang Maghrib, Sasa menghadirkan Kultum Sore yang diisi oleh Uztadz Munawir Ngacir.
"Pada Sasa Street Food Festival kali ini, kami juga kedatangan Food Influencer ternama seperti Nex Carlos dan Magdalena. Yang tidak kalah seru adalah penampilan dari Maliq & D'essentials dan RAN," ujar Albert yang menyebutkan, selama dua hari, Sasa Street Food Festival dihadiri oleh 8.000 pengunjung.