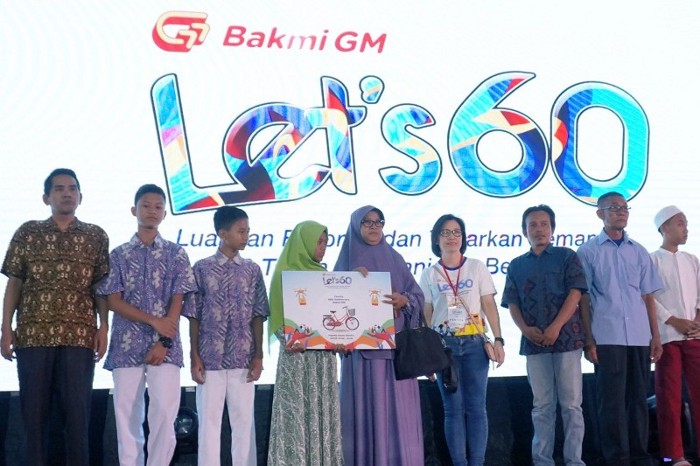 Bakmi Gajah Mada (Bakmi GM) sukses bertahan dalam industri makanan dan minuman (F&B), sejak berdiri pada tahun 1959. Berawal dari sebuah warung kecil, saat ini Bakmi GM sudah memiliki ribuan karyawan dan puluhan gerai yang tersebar di wilayah Jabodetabek, Bandung, Surabaya, Bali, Cikarang dan Karawang.
Menurut Director of Division Engineering & Services Bakmi GM Widianto, kunci suksesnya terletak pada konsistensi Bakmi GM dalam menjaga cita rasa dan kualitas terbaik, serta didukung inovasi yang relevan dengan era digital saat ini.
"Ketika masyarakat berbicara mengenai bakmi, maka top of mind-nya adalah Bakmi GM," ujarnya seperti tertuang dalam rilis yang diterima redaksi di Jakarta, Minggu (8/9).
Dalam hal produk, Bakmi GM secara rutin menghadirkan varian program dan menu baru yang sejalan dengan permintaan pasar seperti Krispi Chips Salted Egg, Long Life Noodles, serta Korean Pop Chicken dan Spring Veggie Stir Fry yang dirilis awal September 2019 lalu.
Sementara inovasi layanan, pihaknya mengembangkan BGM Grab and Go di Stasiun MRT Sudirman, Jakarta. "BGM Grab and Go mengusung konsep ready to eat dan ready to drink, dimana konsumen dapat langsung mengambil makanan dan minuman yang dipilihnya. Bakmi GM hanya menyediakan microwave serta meja standing di lokasi," papar Widianto. Selanjutnya, Bakmi GM akan membuka kedai BGM Grab and Go di Stasiun MRT Blok M Plaza.
Pihaknya juga telah mengembangkan delivery Bakmi GM yang dapat dipesan melalui aplikasi Whatsapp. "Kami berusaha untuk selalu hadir di tempat dimana konsumen berada, serta berkomunikasi dengan konsumen melalui media dan partner seperti e-commerce, media sosial, dan kerja sama dengan partner fintech seperti Dana, Gopay, Linkaja dan Ovo," urainya lagi.
Menyambut hari jadi yang ke-60 tahun, Bakmi GM baru-baru ini (4/9), menggelar perhelatan 'Bakmi GM Let's 60' di Taman Mini Indonesia Indah (TMII), Jakarta. Kegiatan diisi dengan membagikan 121 unit sepeda hasil rakitan karyawan kepada anak-anak Panti Asuhan di wilayah Jabodetabek. ()