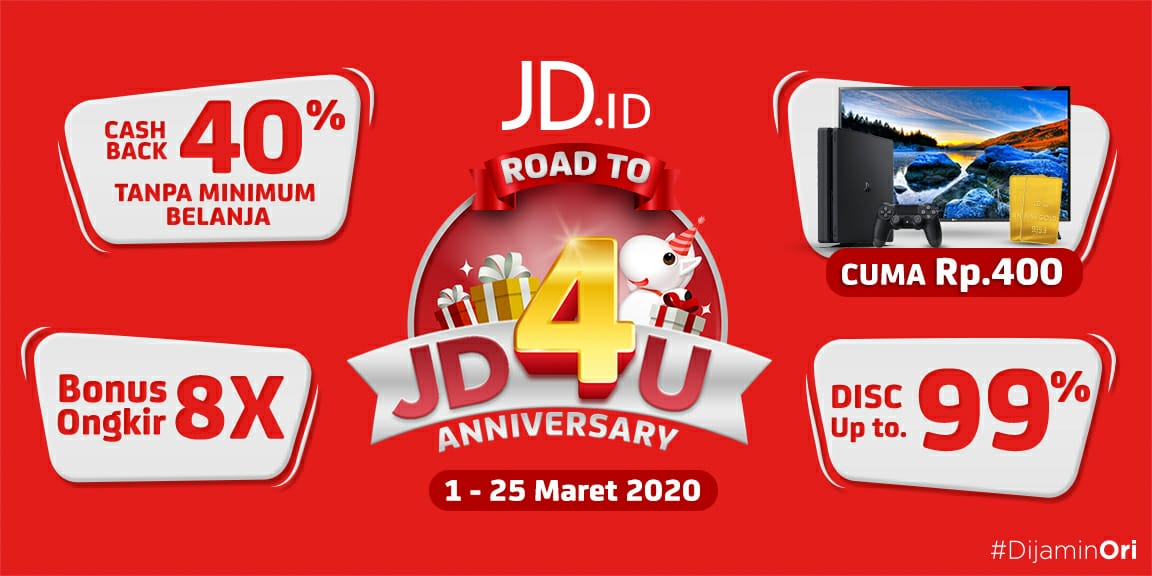 JD.ID, perusahaan e-Commerce yang terafiliasi dengan JD.com, siap menggelar program "JD4U" (JD Four You) sepanjang 1-25 Maret 2020. Program tersebut digelar untuk merayakan Hari Ulang Tahun (HUT) JD.ID yang ke-4 sekaligus memanjakan pelanggan setianya. 
Digelar setiap hari selama 24 jam nonstop, program "JD4U" akan terbagi ke dalam dua fase, yakni  "Road to JD4U" dan "JD4U". Pada fase "Road to JD4U", JD.ID akan menawarkan berbagai jenis promo di 23 kategori utama kepada para pelanggan, di antaranya promo "Menunggu Ulang Tahun JD.ID",  "JD.ID Birthday Golden Ticket", "Voucher Ongkir 8x", "Surprise Cashback 40%", "Brand Festival", dan "Top Seller Festival".
Dikatakan Marketing Chief JD.ID Mia Fawzia, ia optimis dan antusias dalam menggelar program promo "Road to JD4U" yang dilaksanakan sejak 1 Maret hingga 25 Maret 2020 mendatang. Program promo dan potongan harga (diskon) menarik akan disiapkan khusus untuk para pelanggan, setiap harinya selama 24 jam nonstop, hingga penyelanggaraan dari "JD4U"  pada Kamis, 26 Maret 2020. 
"Pada periode ini, kami menargetkan peningkatan nilai transaksi, yang tentu akan diimbangi dengan peningkatan kualitas pelayanan dan pengantaran, demi kepuasan belanja pelanggan secara menyeluruh," jelas Mia.
Menurutnya, saat ini, JD.ID telah berkembang pesat menjadi salah satu platform e-commerce terbesar di Indonesia. "Dengan pencapaian ini, kami ingin mengucapkan terima kasih kepada para pelanggan atas dukungannya kepada JD.ID. Ke depannya, kami akan berkomitmen untuk terus memberikan pengalaman belanja terbaik dan mempertahankan kepercayaan para pelanggan, dengan mengedepankan slogan utama kami, #DijaminORI, yakni untuk selalu menghadirkan produk-produk yang asli. Selain itu, pada tahun ini kami juga akan fokus untuk memperluas teknologi ritel dari online-ke-offline, untuk semakin memanjakan para pelanggan," tutupnya.