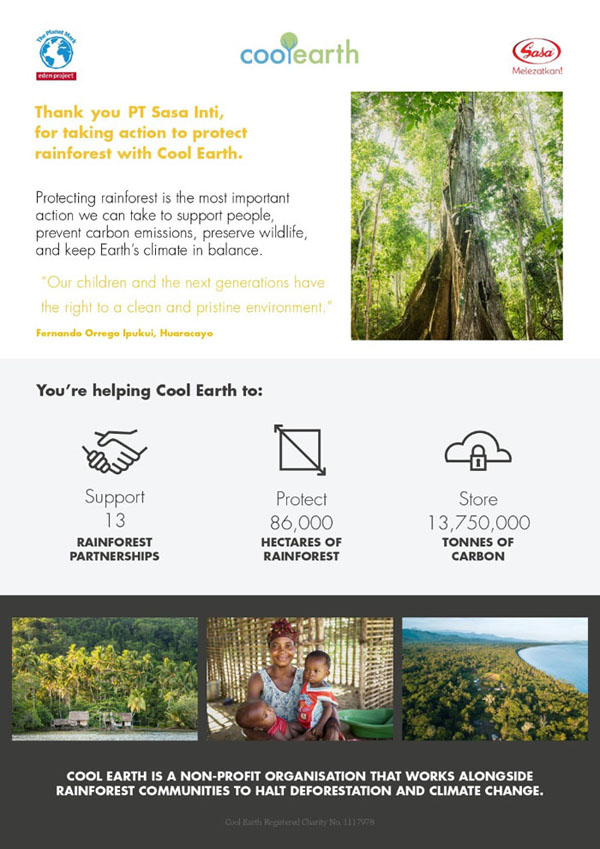 Aksi nyata PT Sasa Inti dalam mengurangi jejak emisi karbon sepanjang tahun 2019  melalui  proyek The Eden Project dan Cool Earth diganjar dengan penghargaan dari The Planet Mark.
Presiden Direktur PT Sasa Inti Rudolf Tjandra menyampaikan, kesadaran untuk melindungi bumi merupakan sesuatu yang penting. "Jika kami konsisten dengan pencapaian ini, tentu kami bisa memberikan dampak yang lebih besar kepada masyarakat Indonesia maupun dunia untuk membantu mereka memahami pentingnya menjaga dan melestarikan sumber daya alam untuk generasi mendatang," ujarnya dalam rilis yang diterima redaksi, Senin (1/9) di Jakarta.
The Planet Mark adalah lembaga yang mendampingi organisasi atau perseorangan untuk mendorong masyarakat tetap konsisten melakukan tindakan yang berdampak baik, positif, dan masif bagi lingkungan dan komunitas yang diberdayakan
Dijelaskan oleh The Planet Mark, pada tahun 2019, PT Sasa Inti telah membantu Cool Earth dalam mendukung 13 kerja sama yang berkaitan dengan hutan hujan, melindungi 86.000 hektar hutan hujan, serta mengurangi 13.750 juta ton karbon.
Sebanyak 1.133 karyawan PT. Sasa Inti berkontribusi besar terhadap penghargaan ini, khususnya dalam penggunaan dan pemanfaatan listrik, gas alam, bahan bakar diesel dan bensin, tempat pembuangan akhir, tempat daur ulang, air, dan kertas yang lebih efisien dan berdampak lebih baik bagi lingkungan.
Hal ini tentunya sejalan dengan program pemerintah yang terus berkomitmen menurunkan emisi gas rumah kaca sebesar 26 persen tahun 2020 dan 29 persen di tahun 2030. ()