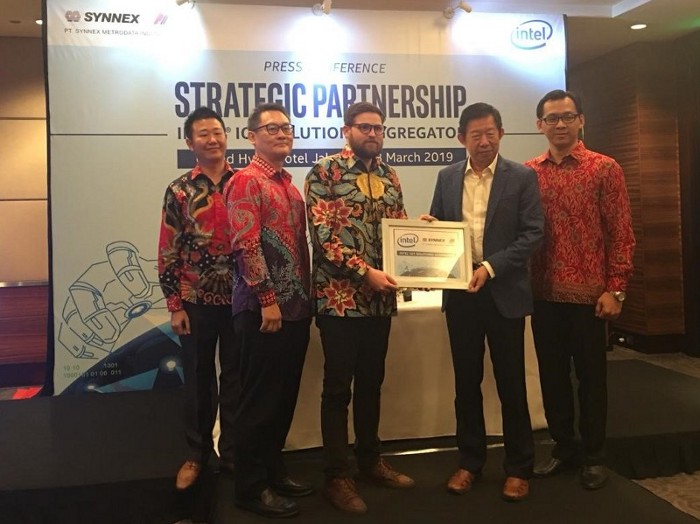 PT Synnex Metrodata Indonesia (SMI) bersama Intel Corporation akan menginisiasi Artificial Intelligence of Things (AIoT) berkolaborasi dengan ekosistem di seluruh Indonesia dengan meluncurkan kompetisi OpenVINO.
Kompetisi itu merupakan elaborasi setelah SMI ditunjuk Intel sebagai Intel IoT (Internet of Things) Solution Aggregator di Indonesia.
Presiden Direktur SMI Agus Honggo Widodo mengungkapkan kegembiraannya atas penunjukan ini. "Nilai lebih ini akan kami berikan kepada mitra bisnis dan pelanggan kami dalam bentuk penyediaan solusi IoT yang mereka perlukan melalui one stop solution serta memperkenalkan Intel Market Ready Solution dari berbagai vendor di seluruh dunia ke Indonesia," paparnya kepada media di Jakarta, Kamis (28/3).
Dijelaskan, SMI akan mencari solusi-solusi lokal yang dapat diajukan sebagai Market Ready Solution khususnya solusi computer vision. Oleh karenanya, pihaknya bersama Intel akan berkolaborasi menginisiasi Artificial Intelligence of Things (AIoT) dengan meluncurkan kompetisi OpenVINO.
"Kami ajak seluruh developer di Indonesia, baik perorangan, tim, maupun korporat untuk ikut berkompetisi membuat solusi aplikasi yang hasilnya akan dipasarkan ke di Indonesia dan market di mancanegara," imbuh Anggoro.
Kompetisi bertujuan menemukan solusi aplikasi untuk menyelesaikan masalah bisnis yang menggunakan teknologi computer vision Intel OpenVINO toolkits.
Steen J. Graham, General Manager IoT Ecosystems and Channels Intel Corporation menyampaikan, toolkit OpenVINO menyuguhkan berbagai aplikasi solusi yang dibutuhkan berbagai bidang industri. "OpenVINO adalah open source sehingga semua orang bisa menggunakannya. Di sini banyak aplikasi yang bisa dipelajari secara mendalam dengan cepat dan efektif," tandasnya. ()