MIX.co.id - Kampanye "Diplomat Success Challenge 12" berhasil meraih penghargaan "PR Program of The Year 2022" untuk kategori Media Relations. DSC adalah salah satu program kompetisi wirausaha terbesar di Indonesia yang diinisiasi oleh Wismilak Foundation. Sejak 2010, DSC sukses menjaring banyak wirausahawan muda dengan bisnis potensial setiap tahunnya. Tidak kurang dari 45.000 proposal bisnis, 15 miliar hibah modal usaha, dan 300 wirausahawan telah dilahirkan dan berkembang dari DSC.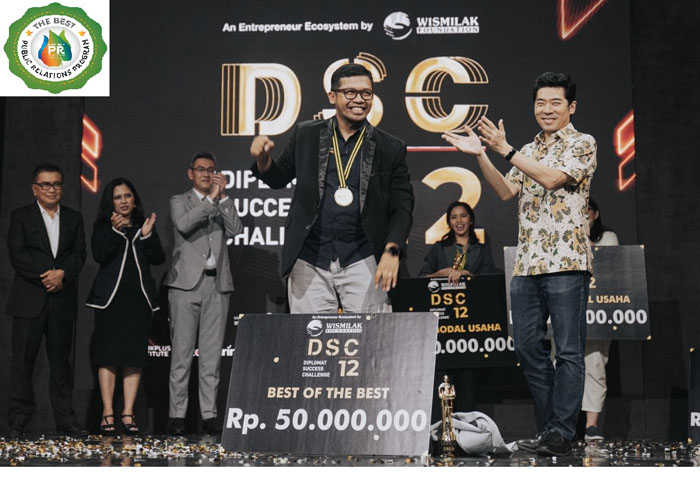 Di tahun 2021, DSC memasuki penyelenggaraan yang ke-12. Kali ini, DSC 12 mengusung pesan kebangkitan bagi dunia wirausaha Indonesia di tengah kondisi pandemi.  Program kali ini adalah untuk melanjutkan misi untuk membentuk ekosistem wirausaha terintegrasi di Indonesia; memperluas jaringan Diplomat Entrepreneur Network (DEN) sebagai bagian dari ekosistem wirausaha yang lebih besar; dan menjadi wadah edukasi kewirausahaan untuk masyarakat luas melalui serangkaian webinar, siaran pers, artikel dan materi publikasi lainnya, baik melalui media massa ataupun kanal digital.
Target program DSC 12 adalah pria atau wanita berusia 20-45 tahun, SES A-B, wirausahawan atau  pemilik usaha, serta masyarakat luas yang ingin memulai wirausaha.
Strategi yang dilancarkan untuk mensukses program DSC 12 adalah dengan melakukan kolaborasi konten bersama media, seperti CNN, Narasi, dan Prambors. Kolaborasi tersebut ditayangkan melalui platform media sosial Instagram dan Youtube.
Hasilnya, sejak awal kampanye yang digelar pada Juli hingga Desember 2021, DSC 12 mendapatkan 301 publikasi, di mana 46% publikasi berasal dari media tier satu. Selain itu, 99% pemberitaan pun bersentimen positif.
Terkait peserta program DSC 12, ada 18.233 proposal yang berhasil terjaring. Itu artinya, DSC 12 berhasil mencapai jumlah submission tertinggi sepanjang sejarah kegitan DSC. Bahkan, dari sisi eksposur, sebaran submission tercatat cukup merata, mulai dari Indonesia bagian Barat hingga Timur. Sementara, pada program DSC sebelumya, Indonesia bagian Timur belum sempat terkekspos dengan informasi DSC.