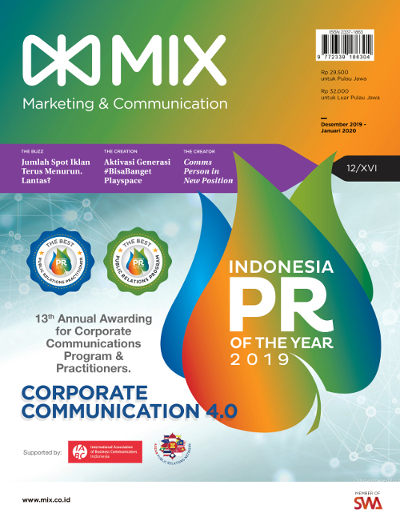 Program "Indonesia PR of The Year 2019" kembali digelar Majalah MIX. Program tahunan yang sudah memasuki perhelatan ke-13 ini, kembali menampilkan sejumlah program Public Relations (PR) terbaik yang telah melalui proses penjurian oleh para pakar PR. Selain itu, profil para praktisi PR yang berhasil terpilih melalui survey para jurnalis juga disajikan pada Cover Story Majalah MIX edisi Desember 2019-Januari 2020. Kali ini, tema yang dipilih adalah "Corporate Communication 4.0".
Selain menampilkan artikel tentang "Indonesia PR of The Year 2019", pada edisi kali ini, Majalah MIX juga menghadirkan sejumlah ulasan menarik. Di antaranya, Jumlah Spot Iklan yang Terus Menurun pada rubrik Research dan Aktivasi Generasi #BisaBanget Playspace pada rubrik Event Review.
Selamat menyimak sajian kami kali ini,....