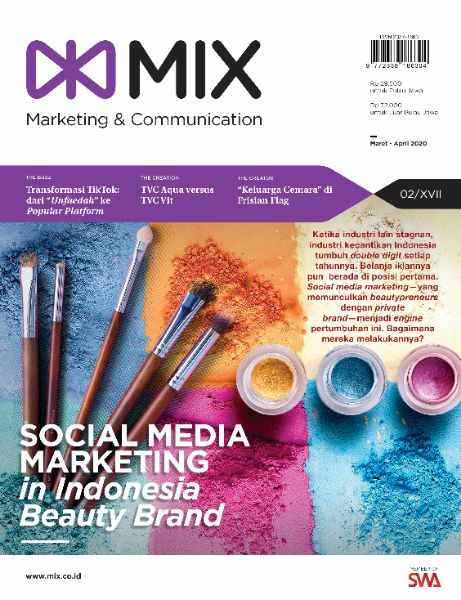 Ekonomi boleh saja melambat, namun industri kecantikan di Tanah Air justru mampu berumbuh double digit tiap tahunnya. Bahkan, belanja iklannya pun sanggup menempati posisi puncak. Tak heran, jika industri ini makin terlihat seksi bagi para pelaku bisnis di Indonesia. Tanpa terkecuali para pemain baru, yang lebih dikenal sebagai beautypreneur. Mengusung private brand dengan proses produksi maklon, para beautypreneurs tercatat telah menjadi mesin pendorong pertumbuhan industri kecantikan di Indonesia. Seperti apa kondisi pasarnya? Bagaimana beautypreneurs mencicipi bisnis ini? Simak Majalah MIX edisi Maret-April 2020.
Pada edisi ini, Majalah MIX juga mengupas isu menarik lainnya. Antara lain, "Transformasi TikTok, dari Unfaedah ke Popular Platform", Review TVC Aqua Versus TVC Vit, dan profil Team of the Month "Keluarga Cemara di Frisian Flag".
Selamat mengikuti sajian Majalah MIX edisi Maret-April 2020 ini.