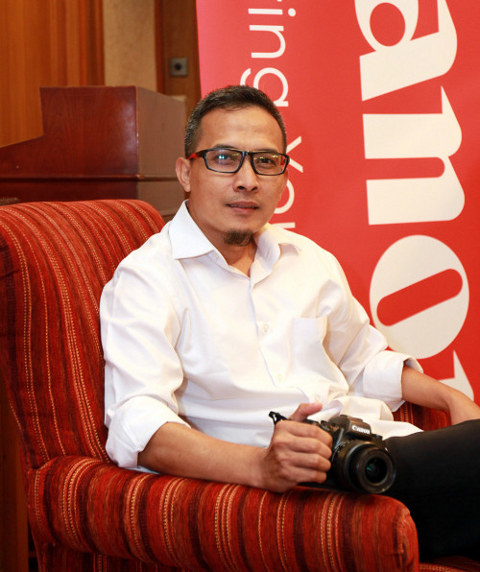 Bagi para pehobi fotografi, event Canon Photomarathon pasti tidak asing lagi. Event ini selalu ditunggu-tunggu karena menjadi ajang copy darat sesama hobiest fotografi. Pada event ini biasanya mereka saling berbagi ilmu tentang teknik sekaligus "pamer" alat fotografi mereka. Ribuan hobiest biasanya menantikan lomba foto yang diselenggarakan oleh Datascrip sebagai distributor Canon di Indonesia.
Event yang rutin diselenggarakan sejak 2009 ini berhasil menancapkan brand Canon dalam benak komunitas fotografi Indonesia. Adalah Yase Defirsa Cory, orang yang paling sibuk mempersiapkan Canon Photomarathon setiap tahunnya. Pada 2009 ketika untuk pertama kalinya event ini dieksekusi, Yase meraih penghargaan sebagai Marketing of the Year 2009 dari Datascrip. Sebelumnya pada 2008, Marketing Manager Canon ini juga berhasil memenangkan Big Campaign Marketing Strategy South East Asia 2008, Canon Singapore Pte. Ltd. Ketika itu Yase baru setahun bergabung dengan Datascrip Canon Division.
Menurut Yase, Canon Photomarathon berhasil menyatukan para pecinta fotografi dari berbagai latar belakang dan usia untuk saling bertemu, bertukar ide, dan pengalaman. Program tersebut merupakan adaptasi dari program global bertajuk "Canon PhotoMarathon Asia" yang berlangsung di 12 negara, yaitu Hong Kong, Taiwan, Filipina, Singapura, Malaysia, Indonesia, Vietnam, India, Brunei, Kamboja, Tiongkok, dan Sri Lanka.
Pernah berkarir di Panasonic Lighting Indonesia, alumni Institut Pertanian Bogor ini mengaku jatuh cinta kepada dunia marketing sejak pertama kali menekuni dunia profesional. "Bidangnya dinamis, tidak boleh statis. Selalu membutuhkan ide-ide cemerlang, dan bukan bidang yang bisa dihitung secara matematis. Jadi harus selalu menghasilkan strategi baru, cara baru, menganalisis pasar, memperhatikan kompetitor. Seperti peran pelatih dalam sepakbola. Dan saya sangat menikmati prosesnya," tuturnya menutup wawancara.