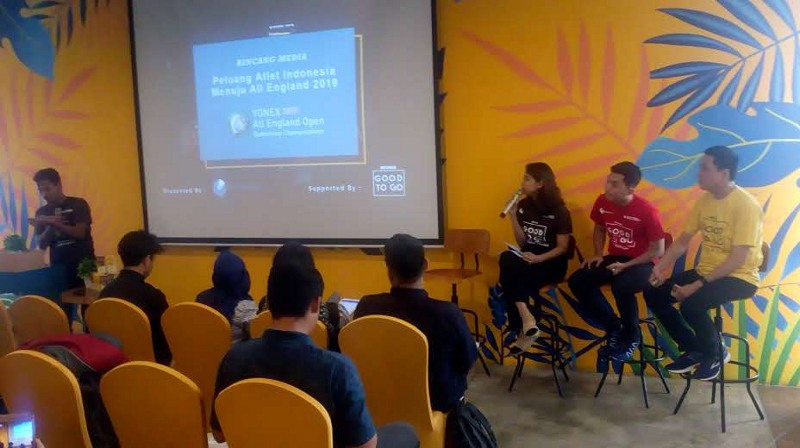 Good to Go, brand minuman susu multisereal dari Indomilk menjalin kerja sama dengan komunitas pecinta bulu tangkis Badmintalk. Kerja sama bertujuan untuk menyalurkan informasi yang aktual dan eksklusif dalam ajang kejuaraan bulu tangkis All England 2019 dimana Badmintalk mendapat kesempatan meliput turnamen All England di Birmingham, Inggris.
Jonathan Setiawan, Senior Brand Manager Susu Cair Divisi Dairy PT Indofood CBP Sukses Makmur menyatakan senang Indomilk Good to Go berkolaborasi dengan Badmintalk karena Badmintalk dapat mempresentasikan "Generasi Go Terus", yakni energi kamu urban muda Indonesia yang aktif, berprestasi, dan berkarya sesuai dengan tagline Good to Go. Dua atlet bulu tangkis Indonesia, Anthony Sinisuka Ginting dan Jonatan Christie menjadi brand ambassador Good to Go.
"Good to Go menjadi terobosan baru Indomilk untuk mendukung kaum urban muda Indonesia berprestasi dan berkarya," ujarnya dalam acara bincang media "Peluang Atlet Indonesia di Kejuaraan Bulu Tangkis All England 2019" di City Walk, Jakarta, Jumat (1/3).
Dikatakan, kolaborasi dengan Badmintalk tidak hanya selama berlangsung All England, tapi akan berlangsung lebih jauh lagi. Sebagai bentuk kemitraan Badmintalk dengan Good to Go, seluruh perjalanan atlet bulu tangkis Indonesia di turnamen All England 2019 akan dirangkum secara lengkap dalam bentuk informasi aktual, dokumentasi foto dan video, serta ragam konten menarik di semua akun media sosial @badmintalk_com dan @goodtogo_id.
Sementara Virgiawan Alfianto, Public Relations Badmintalk menyampaikan antusiasnya untuk mendukung kemitraan tersebut. "Kami percaya kemitraan dengan Good to Go Indomilk akan menjadi sebuah milestone baru yang membawa nilai positif untuk peran Badmintalk sebagai sumber berita aktual dunia perbulutangkisan di Tanah Air," ungkapnya.
Badmintalk berdiri tahun 2015, dan saat ini memiliki lebih dari 540 ribu pendukung di Instagram, 240 ribu subscriber di YouTube, 15 ribu di Twitter , 62 ribu di Facebook, dan 56 ribu di Line. Badmintalks juga memiliki komunitas bulu tangkis yang tersebar di berbagai kota di Indonesia. ()