MIX.co.id - Image Dynamics, konsultan jasa Public Relations (PR) independen asal Indonesia, menerima penghargaan Gold untuk kategori the Best Public Relations Agency dari the 4th ASEAN Public Relations Excellence Award di Ho Chi Minh, Vietnam (8/09/2023).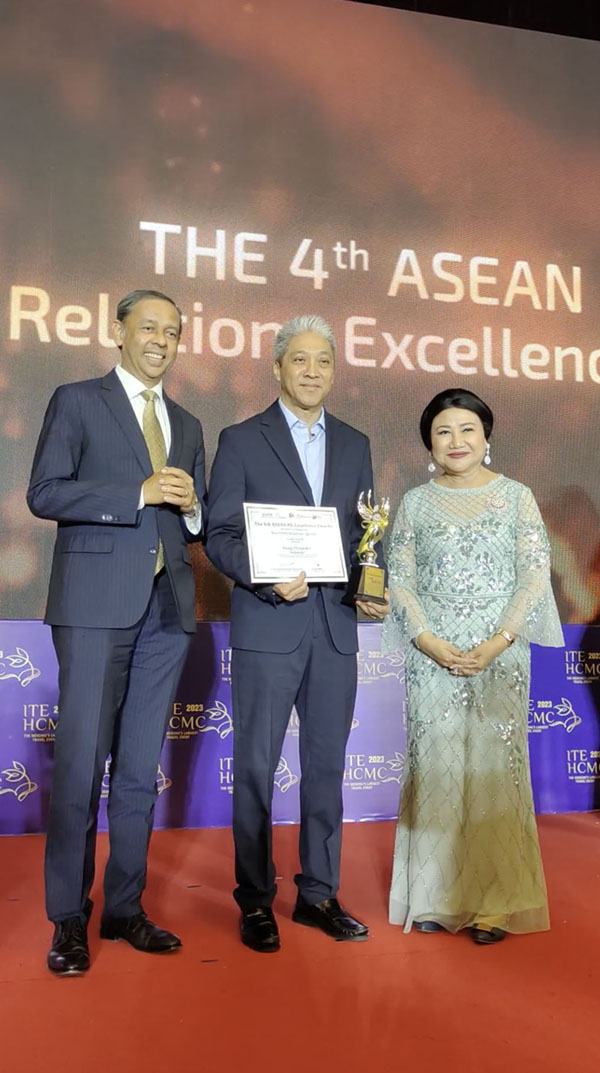 Image Dynamics menjadi satu-satunya penerima penghargaan dari Indonesia dalam ajang yang diselenggarakan oleh ASEAN Public Relations Network bekerja sama dengan Vietnam Public Relations Network dan Global Alliance for Public Relations and Communication Management pada tahun ini.
The ASEAN Public Relations Excellence Award merupakan ajang penghargaan yang digelar setiap dua tahun sekali untuk mengapresiasi pencapaian dalam bidang industri Public Relations (PR) di Asia Tenggara. Ajang ini juga menjadi kesempatan bagi praktisi komunikasi dan agensi-agensi terkemuka se- Asia Tenggara untuk berprestasi dan unjuk gigi di kancah global.
Harry Tumengkol, Partner & Co-founder Image Dynamics, menyampaikan, "Penghargaan ini tentu menjadi kebanggaan tersendiri bagi kami, karena Image Dynamics mendapatkan penghargaan Gold pada kategori PR Agency terbaik di Asia Tenggara. Namun, yang lebih membanggakan lagi ini adalah kemenangan Indonesia di ajang internasional. Apalagi tahun ini, kami satu-satunya wakil dari Indonesia yang berhasil memenangkan penghargaan Best Public Relations Agency."
Lebih jauh ia menegaskan, pencapaian ini menjadi motivasi bagi Image Dynamics sebagai agensi PR lokal untuk selalu memberikan yang terbaik bagi kemajuan industri jasa Public Relations di Indonesia. "Dengan kerendahan hati, kami ucapkan terima kasih kepada ASEAN PR Network dan the 4th ASEAN PR Excellence Awards 2023 atas penghargaan ini, serta seluruh klien yang telah memberi kepercayaan kepada Image Dynamics," sambung Harry Tumengkol.
Pemberian penghargaan ini diserahkan langsung oleh Prita Kemal Gani, President of ASEAN PR Network, dan diterima oleh Utomo Wisjnu, salah satu Co-founder Image Dynamics. Dalam kategori Best Public Relations Agency ini, Image Dynamics bersanding dengan agency lainnya yaitu Shebs PR Empire dari Malaysia, iOLi Communications dari Malaysia, dan COMS360 dari Filipina.
Image Dynamics telah melayani selama 19 tahun di Indonesia. Memiliki media relations yang kuat menjadi kekuatan Image Dynamics untuk memenuhi kebutuhan komunikasi media dan klien. Selama belasan tahun berkiprah, Image Dynamics telah dipercaya oleh berbagai perusahaan baik nasional maupun multinasional. Rata - rata durasi retainer klien Image Dynamics adalah selama 7 tahun.
Saat ini Image Dynamics memiliki 55 konsultan yang menangani klien retainer besar dari berbagai industri di antaranya Google, Tokopedia, Grab, WhatsApp, Nestle, Djarum Foundation, Coca-cola, Third Eye Management (TEM), Uniqlo, Honda, BCA, Telkomsel, Prime Video dan masih banyak lagi.