MIX.co.id - PT Sharp Electronics Indonesia berhasil mendapatkan rekognisi ajang Indonesia Best Brand Award (IBBA) 2022. Sharp berhasil menempati posisi teratas untuk dua kategori berbeda, yakni lemari es dan mesin cuci. Keduanya mendapatkan predikat penghargaan platinum yang diterima pada gelaran malam penganugerahaan IBBA 2022, di Hotel Shangri-La, Jakarta.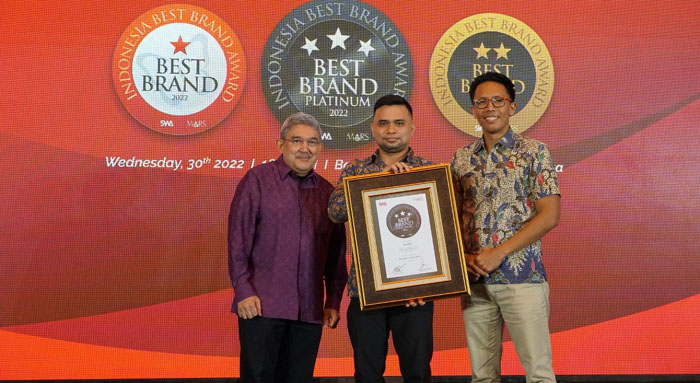 Dituturkan Shinji Teraoka, President Director PT Sharp Electronics Indonesia, "Terima kasih atas kesetiaan dan kepercayaan konsumen Sharp yang menggunakan produk-produk kami, hingga akhirnya di tahun ini Sharp dapat kembali meraih predikat penghargaan platinum untuk dua kategori produk."
Lebib jauh ia menegaskan bahwa perjalanan panjang Sharp di Indonesia membentuk Sharp menjadi sebuah merek yang tangguh dan terus berinovasi guna mengikuti kebutuhan dan kondisi pasar elektronik yang dinamis. "Kami akan jadikan penghargaan ini sebagai pemicu semangat kami untuk berkarya lebih baik lagi dengan menghadirkan produk-produk elektronik yang berkualitas," lanjutnya.
Indonesia Best Brand Award 2022 merupakan ajang penghargaan tahunan yang digelar sejak tahun 2002 oleh majalah SWA dan lembaga survei MARS. Menggunakan metodologi kuantitatif, IBBA 2022 melakukan survei melalui wawancara tatap muka (face to face) dari rumah ke rumah (house to house) dengan menggunakan aplikasi survei (STG) yang dilakukan pada bulan Juli-Agustus 2022. Melibatkan 10.000 responden, latar belakang kriteria responden pada survei ini adalah rumah tangga, menikah/pernah menikah 25-50 tahun, kelas Sosial Ekonomi (SES) ABCD.