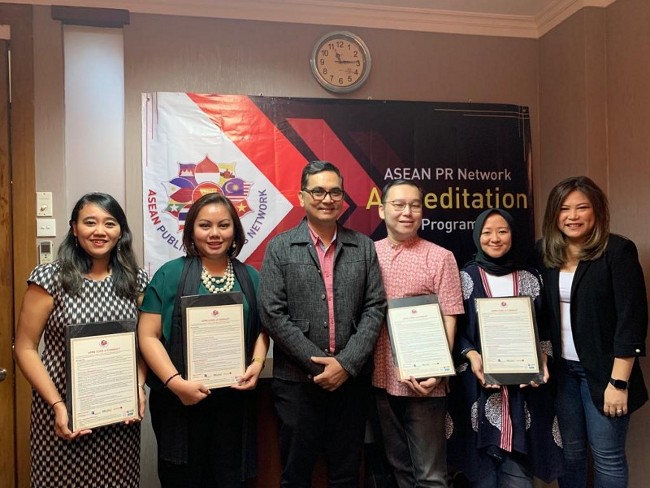 Untuk pertama kalinya, ASEAN Public Relations Network (APRN) menyelenggarakan akreditasi untuk praktisi dan profesional Public Relations (PR) di Indonesia bekerja sama dengan Majalah MIX Marketing & Communication pada 12-13 Desember 2019.
Ada empat profesional komunikasi Indonesia yang mengikuti akreditasi untuk menembus jejaring PR se-ASEAN ini. Mereka adalah Gusni Ayu Puspitasari (dari AIG Insurance Indonesia), Teddy Arifianto (Freelancer PR Professional), Seruni Rhea Sianipar (Shell Indonesia), dan Eunike Serfina Fajarini (Post Graduate Program, Corporate Communication Major LSPR Jakarta, GE Healthcare Indonesia).
Troy Pantouw, Honorary Council salah satu Assessor dalam akreditasi ini mengaku bangga menjadi first assessor dalam APRN Accreditation. "Semoga bisa terus bermanfaat dan berlanjut buat lebih banyak stakeholders lagi," katanya.
Akreditasi ini diselenggarakan bagi praktisi, dosen, dan mahasiswa Public Relations (PR) dan komunikasi di Indonesia. Assesment untuk akreditasi ini dilakukan oleh para Honorary Council of APRN dari wilayah Asia Tenggara dan negara-negara sahabat seperti New Zealand, Kanada, dan China.
Bagi para praktisi PR dan komunikasi Indonesia yang ingin memperluas jaringan professionalnya ke kawasan Asia Tenggara, Anda bisa bergabung dalam komunitas ini, dapat belajar dari para fasilitator PR terkemuka di kawasan ASEAN dan jejaringan globalnya (Global Alliance for Public Relations and Communication Management) yang berpusat di Lisbon, Portugal.
President of APRN Prita Kemal Gani dalam seminar sehari yang mendahului program akreditasi perdana APRN di Kuala Lumpur pertengahan bulan lalu mengatakan bahwa di Masyarakat Ekonomi ASEAN (AEC), para praktisi PR dan komunikasi di kawasan ini harus mengembangan jejaring untuk memperkuat posisi masing-masing. Ditambah lagi, perkembangan teknologi komunikasi telah mengubah lansekap PR dan menghadirkan empat hal baru: New Audience, New Tools, New Relations, dan New Standard. Jadi, mari bergabung dengan komunitas PR ASEAN lewat APRN Accreditation.