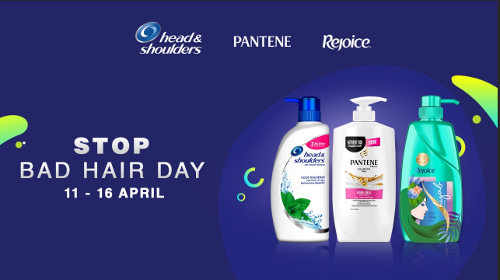 Procter & Gamble (P&G) menggelar kampanye "Stop Bad Hair Day" selama sepekan (11-16 April 2019) di situs belanja online Shopee. P&G bersama Shopee akan menawarkan diskon hingga 45% melalui kampanye tersebut.
Dijelaskan Deeksha Kakkar, Asia Pacific Hair Care E-commerce Leader of P&G, "Sejak peluncuran P&G Official Store di Shopee, kami telah melihat pertumbuhan signifikan dalam bisnis e-commerce kami di Asia Tenggara. Kami sangat antusias untuk meluncurkan produk perawatan rambut kami yang inovatif dan terdepan dalam memberikan manfaat bagi konsumen. Kami juga berharap dapat mengembangkan produk perawatan rambut di e-commerce bersama Shopee melalui kemitraan regional pertama kami."
Melalui kampanye "Stop Bad Hair Day", P&G akan memperkenalkan produk terbarunya, yakni Head & Shoulders Tebal & Kuat Shampo Anti Ketombe, Head & Shoulders Supreme Shampoo Anti Hair Fall, dan Rejoice 3in1 Perfect Perfume Shampoo. Ketiganya merupakan produk yang diyakini dapat mengatasi permasalahan utama rambut di Indonesia.
Ditambahkan Agatha Soh, Head of Regional Marketing Shopee, "Kami melihat, membeli perlengkapan sehari-hari secara online sudah menjadi tren. Sejalan dengan tren ini, kami sangat senang dapat bekerja sama dengan P&G untuk memberikan pengalaman belanja online yang lebih nyaman dan hemat biaya dalam membeli kebutuhan sehari-hari di Shopee."
Lebih lanjut Agatha menegaskan, seluruh produk P&G dapat ditemukan di P&G Official Store di Shopee Mall dengan jaminan 7 hari pengembalian, 100% original, dan gratis ongkir. "Untuk Top spender selama kampanye Stop Bad Hair Day, mereka berpeluang memenangkan grand prize, seperti Samsung S10 dan iPhone XS," tutupnya.
(Reporter: Verdiansyah Hermanto)