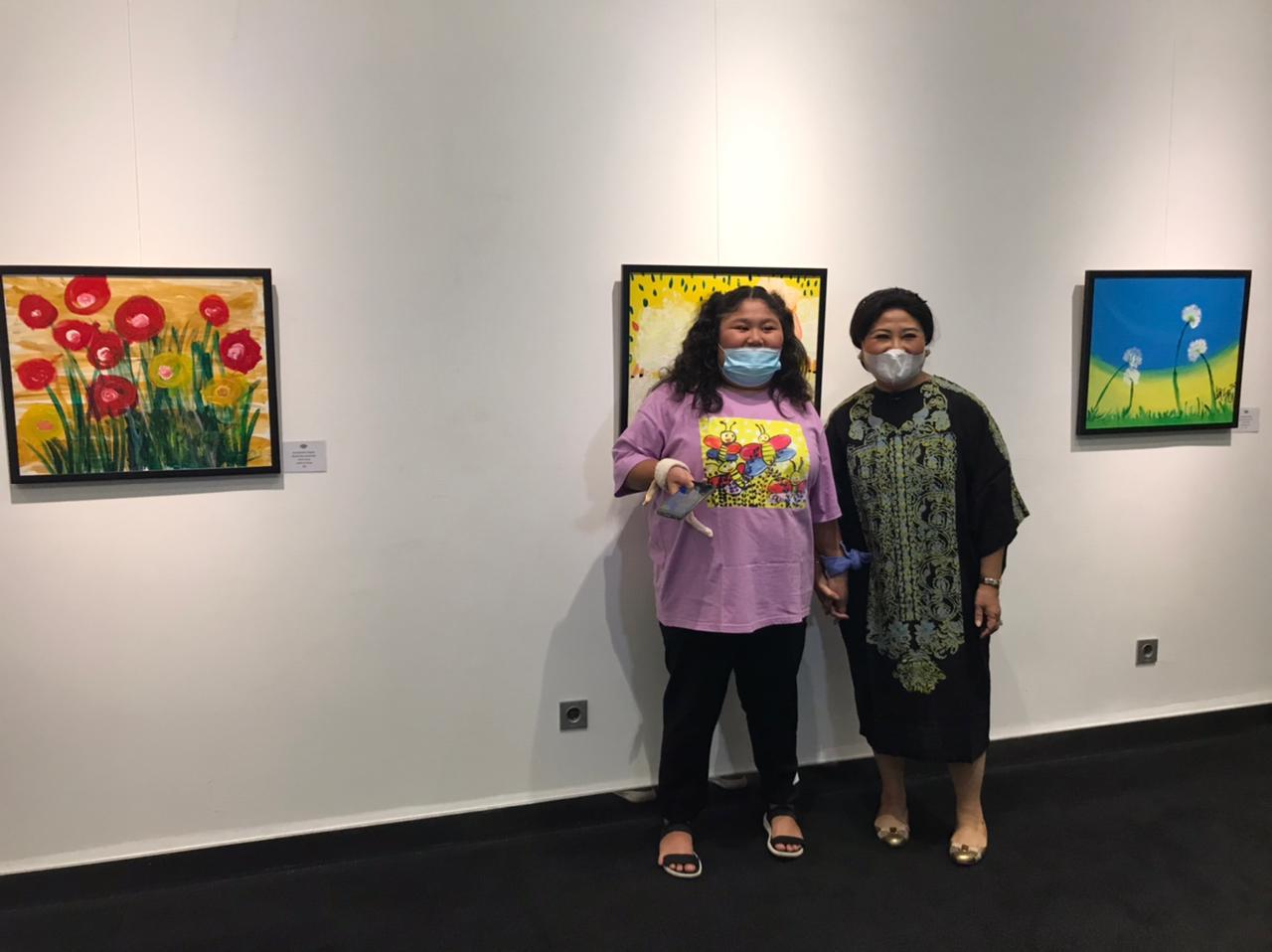 Raysha Management Team dan Sunrise Art Gallery resmi menggelar program A Charity Art Exhibition bertajuk "Dare to Dream, Dare to Shine, & Dare to Share" di Sunrise Art Gallery, Fairmont Hotel Jakarta.  Pameran lukisan yang digelar selama sebulan, mulai 5 Maret hingga 4 April 2021 mendatang ini, menampilkan 17 lukisan karya Raysha Dinar Kemal Gani, pelukis remaja berusia 17 tahun, yang didiagnosa severe autism pada usia 2,5 tahun.
Mengawali pameran lukisan ini, digelar Virtual Launching sebagai karya seni yang resmi tampil dalam showcase Sunrise Art Gallery, pada hari ini (4/3).  Virtual launching ini juga ditayangkan melalui kanal youtube Autism World Raysha.
Diungkapkan ibu Raysha, Prita Kemal Gani, MBA, MCIPR, APR yang juga Founder & CEO LSPR Communication and Business Institute, "Raysha sebenarnya lebih menyukai aktivitas di luar ruangan. Antara lain, bersepeda, ice skating, dan berenang. Namun karena pandemi, kami mencoba memberikan kegiatan indoor, seperti melukis. Ternyata, melukis yang baru setahun ini ditekuni, sangat dinikmati Raysha. Dalam seminggu, ia bisa menghasilkan karya lukisan yang baru."
Tema "Dare to Dream, Dare to Shine, & Dare to Share" yang dihadirkan pada ekshibisi kali ini, menurut Prita, merupakan rangkuman dari keinginan Raysha. "Dare to dream, artinya, Raysha layaknya remaja pada umumnya, ia memiliki banyak mimpi. Dare to shine, karena Raysha ingin mendapat perhatian, senang mendapat pujian, dan apresiasi. Sementara Dare to share, seperti halnya kita, Raysha juga ingin bisa berbagi," papar Prita.
Sebagai individu dengan gangguan sindrom autisma (autistik), diakui Prita, Raysha juga memiliki kendala dalam kehidupan sehari-hari. Contohnya, Raysha kesulitan konsentrasi, muncul rasa cemas, hingga kendala di motorik dan sensorik. Kegiatan melukis adalah salah satu terapi yang dilakukan Raysha.
"Acara ini  dihadirkan untuk membantu dan mendukung anak-anak autisme dari keluarga pra-sejahtera, agar mendapatkan terapi yang sesuai dengan kebutuhannya. Sekaligus mengajak masyarakat bersama-sama menerima dan membantu keberlangsungan hidup anak-anak autisme di sekitar kita. Let Us Become The Agent of Voice for Voiceless," pungkas  Prita.