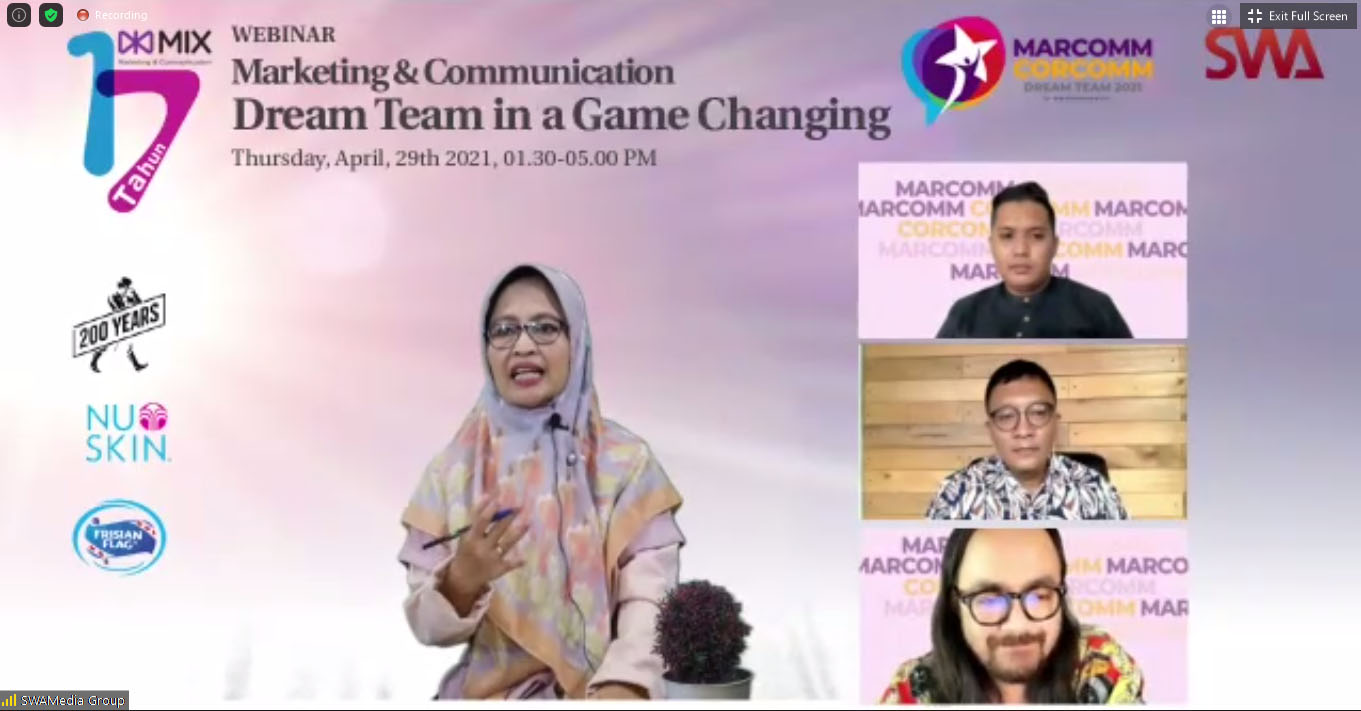 Majalah MIX MarComm (Swa Group) menggelar program "Indonesia MarComm & CorComm Dream Team 2021". Program perdana dan diselenggarakan secara virtual pada Kamis (29/4), di Jakarta ini merupakan rekognisi terbaru dari Majalah MIX MarComm untuk para profesional Marketing Communication (MarComm) & Corporate Communication (CorComm) dan para branding enthusiast di Indonesia.
Majalah MIX MarComm yang tahun ini berusia 17 tahun, secara rutin menggelar berbagai program rekognisi bagi para profesional di bidang marketing dan communications yang dikemas melalui kompetisi tahunan, seperti  "Indonesia Best Corporate Sustainability Initiatives " dan "Indonesia PR Program of The Year."
Anugerah "Indonesia MarComm & CorComm Dream Team 2021" ini, kata Lis Hendriani selaku Pemimpin Redaksi Majalah MIX MarComm, diharapkan dapat menjadi amunisi baru bagi tim CorComm dan MarComm Indonesia untuk berkarya lebih baik lagi, dan menjadi inspirasi bagi para profesional marketing dan komunikasi Indonesia lainnya.
Ada dua kategori utama dalam anugerah ini, yaitu CorComm Team dan MarComm Team. Masing-masing kategori dibagi lagi ke dalam tiga sub kategori, yakni Excellent Team adalah tim terbaik yang berhasil memainkan "orkestra" tantangan yang dihadapi, strategi yang diciptakan (untuk menghadapi tantangan tersebut), koordinasi antar anggota tim, dan eksekusi strategi sehingga menciptakan result (output dan outcome) yang maksimal; Solid Team adalah tim terbaik dengan poin tertinggi dalam penilaian koordinasi dan eksekusi strategi; dan Effective Team adalah tim terbaik dengan poin tertinggi dalam penilaian strategi dan result.
"Penilaian dilakukan dalam dua kali evaluasi, pertama penilaian berdasarkan materi presentasi yang dikirimkan oleh para peserta. Penilaian kedua, dilakukan berdasarkan hasil presentasi dan tanya jawab oleh para peserta secara virtual yang digelar selama empat hari," papar Lis.
Program diikuti peserta dari berbagai perusahaan terkemuka di Indonesia dengan latar belakang industri yang berbeda-beda, antara lain Keuangan dan Perbankan, Barang Konsumsi (ConsumerGood), E-Commerce, Electronics, Retail, Skin Care, Lubricant, dan sebagainya.
Sementara Dewan juri yang melakukan penilaian adalah Nico Wattimena, Principal Consultant at NWAssociates dan Senior Lecturer LSPR Communication & Business Institute; Leila Djafaar, Chief of Marketing Corporate Affairs & Legal Commonwealth Bank;  Edhy Aruman, Senior Editor SWA Media Group dan  Pemimpin Redaksi Mix.co.id; dan Jojo S. Nugroho, Ketua Umum Asosiasi Perusahaan PR Indonesia (APPRI) dan Managing Director Imogen PR.
"Bersamaan dengan anniversary yang ke-17, melalui anugerah terbaru MarComm & CorComm Dream Team 2021, Majalah MIX Marketing & Communication ingin menularkan semangat untuk bersatu padu menghadapi berbagai tantangan, terutama tantangan akibat doubledisruption yang tidak mudah ini, kepada para professional marketing dan komunikasi di Indonesia," tutup Lis.
Berikut ini daftar para pemenang "Indonesia MarComm & CorComm Dream Team 2021":
MARCOMM EXCELLENT TEAM 2021: Asuransi Astra (330.45); Telkom Indonesia (328.95); Prudential Indonesia (321.00); Sinar Mas Land (321.00); Universitas Mercu Buana (313.60).
MARCOMM SOLID TEAM 2021: Multilateral Global Cahaya (303.00); Smartfren Telecom (299.00); Sharp Electronics Indonesia (293.50); Mahdian Group(292.00); dan Diageo Indonesia (287.00).
MARCOMM EFFECTIVE TEAM 2021: Bank DBS Indonesia (312.17); Nu Skin Indonesia (309.00); Pefindo Biro Kredit (309.00); Frisian Flag Indonesia (305.50); dan Universitas Airlangga (305.00).
CORCOMM EXCELLENT TEAM 2021: Tokopedia (338.35); Danone Indonesia (336.80); Dexa Group (332.50); Astra International (328.55); Hero Supermarket (328.10).
CORCOMM SOLID TEAM 2021: Bank Central Asia, (322.00); Asuransi Allianz Life Indonesia (313.33); Frisian Flag Indonesia (313.00); Panasonic GOBEL, (310.00); dan Austindo Nusantara Jaya (307.50).
CORCOMM EFFECTIVE TEAM 2021: Dana Indonesia (327.00); Prudential Indonesia (326.25); Pertamina Lubricants (320.00); Trakindo Utama (317.50); dan Unilever Indonesia (315.50). ()