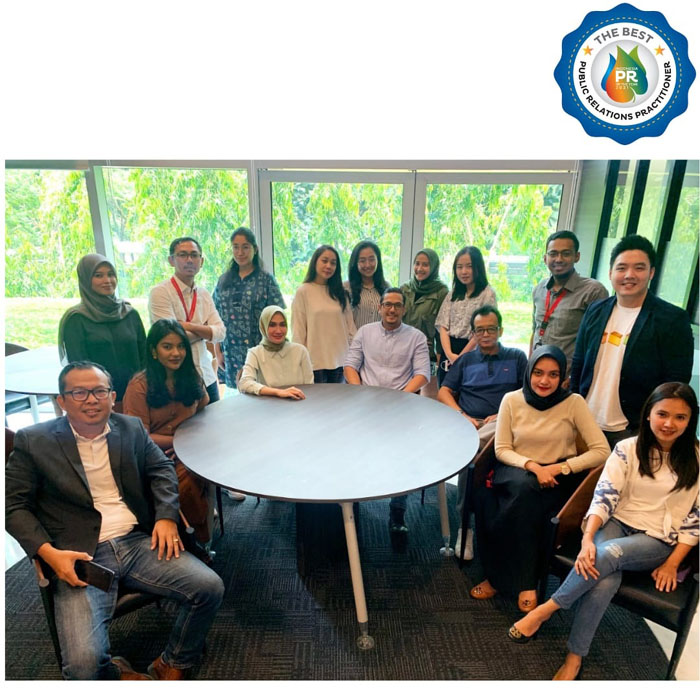 Divisi Corporate Communication & Marketing Sinar Mas Land dibentuk tahun 2011. Saat itu,  grup perusahaan tengah memasang target untuk membantu brand awareness Sinar Mas Land sebagai corporate identity dari setiap proyek milik Duta Pertiwi maupun Bumi Serpong Damai (BSD), yang kini jumlahnya sudah mencapai lebih dari 40 proyek properti.
Selain itu, perusahaan juga menetapkan objektif menciptakan brand image bahwa Sinar Mas Land adalah perusahaan terpercaya. Melalui kampanye yang akan dikembangkan kemudian, perusahaan berharap seluruh proyek properti yang di-endorse dengan brand Sinar Mas Land menjadi jaminan kualitas properti.
Sesuai namanya, sekarang divisi ini terdiri dari dua tim, yakni tim Corporate Marketing dan tim Corporate Communication. Perusahaan memfasilitasi komunikasi antar-personal kedua tim itu dengan sarana intranet. Melalui channel digital tersebut, semua informasi seputar perusahaan dapat di-share ke seluruh tim. Dengan begitu, keputusan bisnis pun dapat diambil dengan mudah.
Secara spesifik, Tim CorComm Sinar Mas Land memiliki beberapa tanggung jawab dalam mewujudkan misi perusahaan. Antara lain, merencanakan dan mengimplementasikan agenda public relations (PR), digital communications (termasuk social media campaign), mengembangkan community marketing, dan menciptakan internal communication Sinar Mas Land.
Tahun ini adalah untuk keenam kalinya tim CorComm Sinar Mas Land menjadi pemenang di hati para wartawan bisnis yang MIX survey, sehingga menjadi pilihan teratas di kategori industri properti dan real estate. Selain penghargaan dari ajang PR of the Year Majalah MIX, Prestasi tim Corcomm Sinar Mas Land juga tercatat pada beberapa pencapaian lain.
Tahun 2018 misalnya, program PR mereka yang berjudul "PR Campaign for Digital Hub project at BSD City" dinilai berhasil menyosialisasikan proyek Digital Hub sebagai kawasan Silicon Valley-nya Indonesia. Penilaian tersebut diambil berdasarkan jumlah jumlah exposure pemberitaan di media massa dan awareness di kalangan jurnalis terkait proyek tersebut.